SDS Registry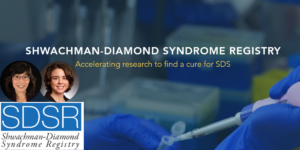 SDSF encourages every patient with SDS to register in the Shwachman Diamond Syndrome Registry. The more data that is available to doctors and researchers, the faster they can help with diagnosis, treatments and hopefully a cure!
For more information, please visit www.sdsregistry.org.
The North American Shwachman-Diamond Syndrome Registry (SDSR) was established to collect medical information and clinical samples on all individuals with SDS with the goal of improving diagnosis and treatment.
SDSR is dedicated to gathering and analyzing information about SDS and sharing any new knowledge with the SDS community and medical professionals. There is no charge to participate in this study. Participating in the study will help the SDSR better understand SDS and may eventually lead to better diagnostic tests and new forms of treatment.
Dana-Farber Cancer Institute/Boston Children's Hospital
Cincinnati Children's Hospital Medical Center